Forrest, l'art de courir
(avec esprit)
Et si on parlait de course à pied autrement ? Et si on osait faire un lien entre l'art et la course ? Cinema, théâtre, littérature, sculpture, photographie, architecture, musique, gastronomie.

Forrest

c'est le bookzine sur l'art de courir.

Forrest

, c'est un objet littéraire, graphique, photographique, philosophique presque, surprenant, inattendu, destiné aux amoureux de la course à pied, aux amoureux de toutes les courses à pied. Ambitieux, audacieux, mais sans se prendre au sérieux.
​​​​​​​
What if we talked about running differently? What if we dared to make a link between art and running? Cinema, theater, literature, sculpture, photography, architecture, music, gastronomy. Forrest is the bookzine about the art of running. Forrest is a literary, graphic, photographic, almost philosophical object, surprising, unexpected, intended, for running lovers, of all types of running races. Ambitious, daring, but without taking itself seriously.
​​​​​​​
Notre projet

, comme une boîte de chocolat

​​​​​​​
Forrest, c'est un ouvrage hybride de 208 pages hautes en couleurs à la frontière entre l'art et la course à pied. Une mise en page où photos, illustrations, photomontages et collages font échos aux lignes littéraires. Un concept que nous avons pris plaisir à imager dans ce magazine colossal où chaque partie à une composition graphique qui lui est propre. Comme le dirait notre 

Forrest :

 c'est comme une boîte de chocolats, on ne sait jamais sur quoi on va tomber.
Forrest is a hybrid book of 208 colorful pages where Art is mixed with running. A layout where photos, illustrations, photomontages and collages respond to the literary lines. We enjoyed a lot to image this concept in this colossal magazine where each part has a graphic composition of its own. As our Forrest could say: it's like a box of chocolates, you never know what you're gonna get.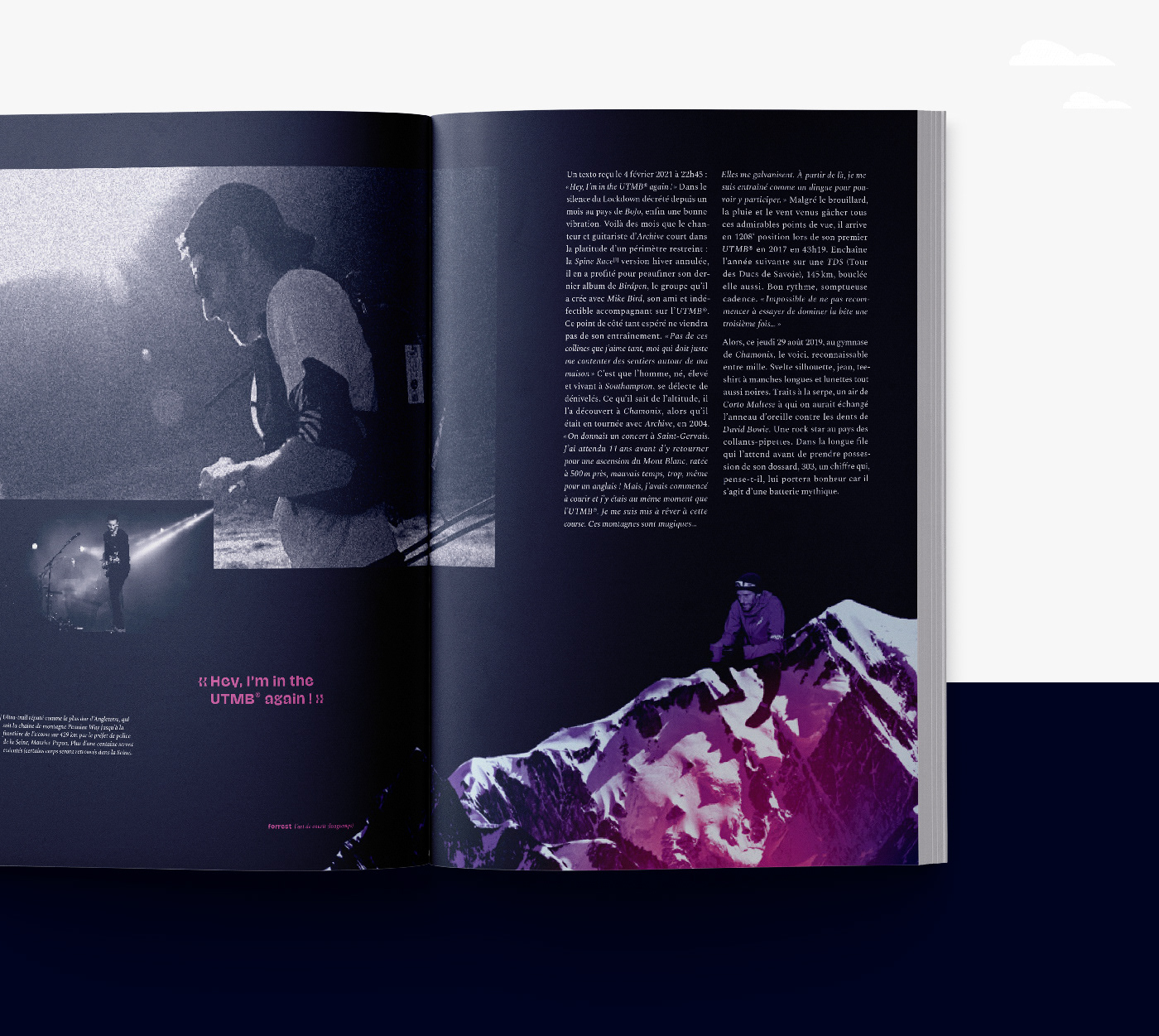 ILLUSTRATIONS : ROMAIN BLAIS
ART DIRECTION - GRAPHIC DESIGN - PHOTOMONTAGE - COLLAGE : STUDIO ELLAIR
HEAD OF REDACTION : QUENTIN GUILLON & BAPTISTE CHASSAGNE
​​​​​​​
unfortunately 

Forrest

 is only available in french for now.
EN COMMANDE SUR OUTDOOR-EDITIONS.COM